Dr. Herrmann to present "Model-Based Systems Engineering for Healthcare Organizations" at Optimal's Brown Bag Seminar
Date: November 9, 2011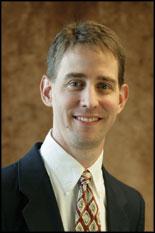 University of Maryland Associate Professor Dr. Jeffrey W. Herrmann will share new innovative models to improve operations of healthcare organizations on Tuesday, November 15, 2011 at 11:45 a.m. This brown bag seminar will be held at Optimal Solutions Group, LLC (Optimal) headquarters located in M Square Research Park in College Park, Maryland.
Dr. Herrmann will discuss "Model-Based Systems Engineering for Healthcare Organizations" as part of Optimal's Brown Bag lunch series. Healthcare organizations are now using quantitative models and tools to better manage their care units. Dr. Herrmann will share state-of-the-art models that offer solutions to improve the quality, efficiency, and effectiveness of healthcare.
These comprehensive models analyze cost and revenue from various sources of hospital financial data, uniquely allowing sight of how treatment changes and condition progression influence costs.
Currently, Dr. Herrmann is Director of the Simulation-Based System Design Laboratory and Associate Director for the University of Maryland Quality Enhancement Systems and Teams (QUEST) Honors Fellows Program. In addition, he holds a joint appointment with the Department of Mechanical Engineering and the Institute for Systems Research.
Prior to these positions, Dr. Herrmann received his Ph.D. degree in industrial and systems engineering from the University of Florida. His current work includes topics on emergency preparedness planning and response, health care operations, and engineering design decision-making.
Click here to learn more about Dr. Herrmann and his projects.