Research and Evaluation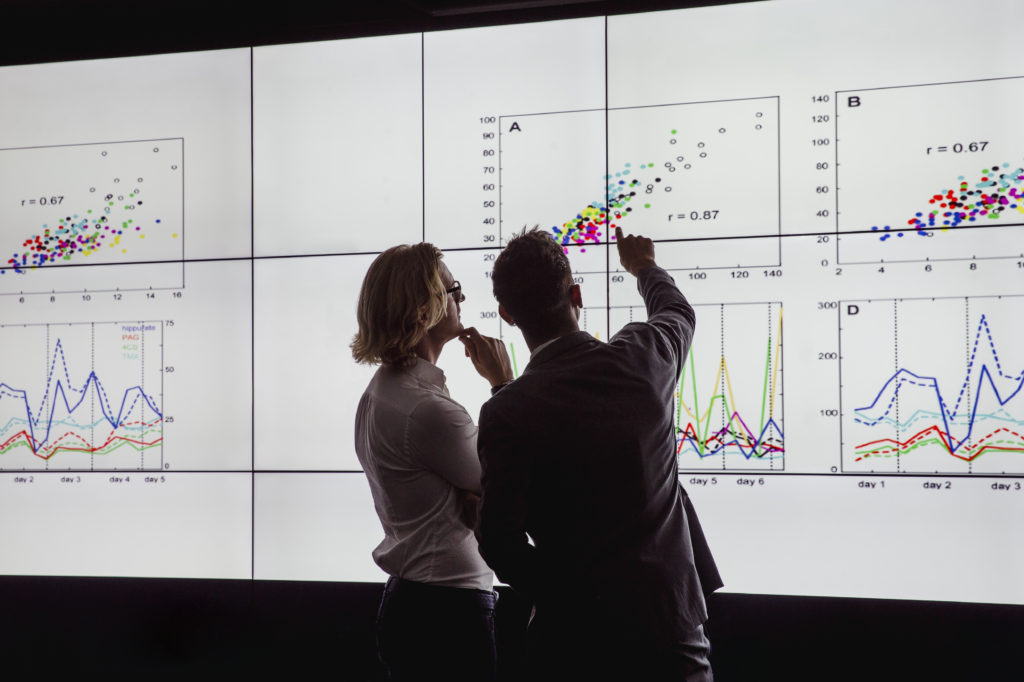 Optimal Solutions Group is dedicated to providing real-time data and solutions to decision-makers dealing with rapid change.
Instead of looking back on why a project succeeded or failed, Optimal's data evaluation and analysis services are designed to provide continuous feedback that allows for course corrections even as a program is ongoing. We call this design that allows for concurrent data collection, analysis and reporting our "Real-Time Framework."
With a focus on multidisciplinary design, Optimal is experienced in rigorous methods, has proven technologies, and abides by human subjects, security and accessibility guidelines to provide timely, evidence-based reporting for programs, partners, and public stakeholders.
Our in-house staff of social scientists have expertise spanning diverse disciplines, including workforce development, welfare reform, education policy, and child welfare and economic development policy.
Policy and Program Evaluation
Rigorous impact evaluation using experimental, quasi-experimental, and non-experimental design to create evidence of what works to inform program and activity design
Performance evaluation, monitoring and evaluation, and continuous quality improvement analysis to provide assessments of performance within the program cycle
Rapid-cycle evaluation to provide real-time updates on program performance
Process evaluation to understand the scope and design of projects
Implementation analysis to assess whether the treatment has been delivered with fidelity to its original design
Environmental analysis, climate-risk screening, and sustainability analysis to assess the impact of climate change
Political economy and governance analysis to assess the state of the democratic process
Culturally competent, gender-inclusive, and sustainability-minded approach to evaluation design
Statistical and Econometric Analysis
Multiple linear regression modeling

Cross-sectional, time-series, and longitudinal/panel-data modeling
Hierarchical linear modeling
Regression discontinuity
Propensity score matching
Instrument variable design

Experienced in using SAS, STATA, R, SPSS, and Python
Qualitative Analysis
In-depth structure, semi-structured, and unstructured key informant interviews
Focus groups
Literature reviews and environmental scans
Systematic review of data and documentation to support desk reviews
Case studies
Experienced in using NVivo and Atlas.ti software to facilitate qualitative analysis
Machine Learning and Artificial Intelligence
Supervised and unsupervised machine-learning algorithm training for pattern recognition and predictive analytics

Natural language-processing algorithm training
Image recognition algorithm training
Decision tree models for feature selection and outcome prediction

Experienced in using Neural Networks, Python, Torch, Café, Tensorflow, Keras, Google Cloud Platform, and Amazon Web Services
Economic, Cost, and Investment Analysis
Ex ante, ex post, and in-medias res cost effectiveness and cost-benefit analysis
Deterministic economic modeling with complex Markov chains and Monte Carlo simulation design
Public finance management
Public sector investment analysis
Return on investment analysis
Large-scale Survey Administration
Develop multi-stage, complex survey methodology with clustered and stratified random sampling design
Develop, test, and pilot data collection instruments
Recruit, train, and lead large survey data collection teams
Use real-time survey tools within the ReveloTM suite that allow offline tablet and mobile-based data collection
Use real-time survey tools to check skip patterns, track geographic locations, and monitor data entry for outliers, thus providing quality assurance and timely course corrections in the field
Reporting progress of data collection in real-time to stakeholders
Knowledge Creation, Management, and Dissemination
Develop standards for data quality, completeness, and documentation
Develop tool kits and guidance documentation for data collection, preparation, and submission
Develop standardized data-collection tools to be used by communities of research practice
Develop technical briefs that synthesize primary project and activity-level data and research findings to inform strategy level performance
Lead trainings, capacity-building workshops, and professional development activities to train stakeholders on how to correctly use data and evidence from the field to inform policy decisions
Develop centralized, web-based data and knowledge product repositories
Disseminate knowledge products through the web
Communications services
Conference planning
Publication preparation
Web design and development
Database development and maintenance
Information dissemination
Video conferencing and webinars