Optimal Researchers Present Findings on Equity in Federal Government Procurement at Economic Research Conference
Date: January 8, 2022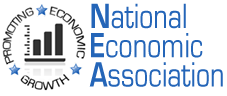 Optimal researchers will be presenting two papers on equity in federal government procurement at the National Economic Association (NEA) Allied Social Science Association meeting on Saturday, January 8, 2022.
Andrey Vinokurov (senior research associate) and Mark Turner (president and principal research associate) will present findings from their working paper, "The Effects of Set-Aside Procurement on the Availability of Women-Owned Small Businesses in Federal Contracting." The Women-Owned Small Business (WOSB) federal contracting program is one of several programs that Congress has approved to provide greater opportunities for small businesses to win federal contracts. Recent research by Optimal reveals that WOSBs availability (proportion of WOSBs that are ready, willing, and able compared to all ready, willing, and able firms in each industry) is low when compared to the relative size of women in the population. This study measures changes in the availability of WOSBs in response to federal agencies' use of set-asides and sole-source contracts.

As part of the same panel, Sadaf Asrar (director of data science) will present "Effects of the 8(a) Program in Increasing the Utilization of Small Disadvantaged Businesses in Federal Government Contracting." The federal government established the 8(a) program to improve the capacity and supplier base of small businesses owned and operated by socially and economically disadvantaged members of society. To help provide a level playing field, the government limits competition for certain contracts to businesses that participate in the 8(a) program. The paper uses multivariate econometric techniques to identify factors that predict whether 8(a) businesses are successful in winning prime federal contracts during and after their time in the 8(a) program.

Visit the NEA conference and panel for more information.
*****************************************************************
Founded in 2000, Optimal Solutions Group, LLC, is a nonpartisan public policy research and data analytics firm located at the University of Maryland's Discovery District in College Park, Optimal is a leader in driving real-time public policy research.