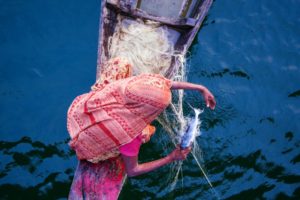 The US Agency for International Development (USAID) Mission in Bangladesh is one of the largest USAID assistance programs in the world. Since Bangladesh's independence in 1971, poverty has been a major challenge that the country is successfully striving to overcome, despite daunting obstacles.
Lying situated at the juncture of three major river systems, 80 percent of Bangladesh's territory is classified as floodplain, making it extremely vulnerable to the dangers of climate change. One in three of its population of 165 million lives in poverty, and two out of five cannot read.
Yet Bangladesh is on track to become a developing country in the 2020s, an upcoming UN designation that would leave behind the least-developed country status it has had since 1975. It has advanced from a low-income country to a low-middle income country on the World Bank's scale and has achieved two decades of 6 to 7 percent annual GDP growth.
Bangladesh is a key US strategic partner in South Asia and shares a close friendship and common interests. With the assistance of USAID, Bangladesh has reduced maternal and child mortality by two-thirds and malnutrition from 60 percent to 36 percent. With USAID support, Bangladesh has nearly tripled rice production over the past 20 years.
As a public-policy research firm that collaborates with agencies in over 50 countries, Optimal Solutions Group has worked closely with USAID to collect, evaluate and disseminate data from major projects in Bangladesh.
Optimal drew on its extensive experience designing and implementing performance measurement systems, its stable of subject matter experts and staff that have worked in or are based in Bangladesh, and its experience assessing information on return on investment and compiling data to inform current and future decision-making.